What is Macafem?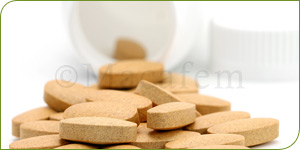 Macafem (Lepedium meyenii) is a small Andean root from the radish family. The nourishing Macafem grows in the Andean plateaus of Peru at altitudes as high as 14,500 feet (4,400 m) above sea level. The rich soil found on these high plateaus, where it is very cold and oxygen poor, may account the extraordinary hormonal benefits found in Macafem. It nourishes the hormonal glands to help them produce natural hormones more efficiently, which ultimately balances not only estrogen, but also testosterone and progesterone levels.
How does Macafem work?
To understand how Macafem works, we must also explain the role of hormones in the body.
Hormones – like estrogen, testosterone, and progesterone – are chemical messengers that course through the bloodstream and regulate the functioning of the entire metabolism. When hormone levels fluctuate – whether because of the process of aging or environmental influences – it has effects on energy, vitality, mood, and sexual desire, as well as fertility. In fact, changes in estrogen levels initiate the menopause transition and cause all its symptoms. Therefore, it is very important to keep the hormonal levels balanced.
What Macafem does is naturally nourish the hormonal system to keep hormone levels in a healthy balance. Unlike hormone drugs, which are synthetic hormones that may produce side effects, Macafem acts completely differently. Rather than putting hormones from outside into your body, it nourishes and stimulates your own natural hormone production by inducing the optimal functioning of the endocrine glands.
What are the benefits of using Macafem?
Using Macafem regularly can help you maintain a healthy life, as it balances hormone levels. By nourishing the endocrine glands, Macafem provides the following benefits:
Relieving menopause symptoms. This includes hot flashes, vaginal dryness, night sweats, irregular periods, mood swings, and menopausal depression.
Increasing energy and vitality. Macafem provides additional energy for your daily tasks and more.
Enhancing libido and sex drive. Macafem increases your sexual well-being by balancing the levels of testosterone and other hormones.
Improving fertility. Macafem can help balance hormone levels before and during pregnancy.
Can Macafem help women with menopause symptoms?
Macafem effectively relieves menopause symptoms because it nourishes the body, helping it maintain hormones at healthy levels. This remedies the main cause of menopause symptoms, an estrogen imbalance.
Currently, Macafem is gaining worldwide attention as a safe, natural, and highly effective alternative to conventional hormone replacement therapy (HRT), since an increased risk of breast and ovarian cancer – as well as of heart disease, blood clots, and other side effects – are associated with this treatment. Many health professionals are integrating Macafem into their practices and promoting it as an excellent treatment for menopause symptoms. Macafem is a rejuvenator for the entire endocrine system, thereby encouraging the body to secrete its own natural hormones – and in the correct proportion to each other. The results speak for themselves, as thousands of women report relief from symptoms such as hot flashes, mood swings, fatigue, vaginal dryness, and loss of libido.
Will Macafem interfere with or disrupt the body's natural hormonal rhythm?
Macafem feeds and nourishes the hormonal system. In no way does it act as an aggressor in the body because it does not add hormones or produce any adverse effects. Rather, it provides essential nutrients and beneficial alkaloids, giving the body the proper tools to ensure optimum health and balance. Macafem is an extraordinary supplement that revitalizes the entire hormonal system, which allows that glands to produce hormones at balanced levels.
How soon will I get results?
Many women experience improvement within just one week of taking Macafem, though it may take up two months for hormone levels to balance out. You can safely take Macafem for as long as you need, which may vary depending on your own body. Usually, our clients take Macafem for periods of 6 – 9 months and then stop taking it for a couple of weeks to see how they feel. This cycle can be repeated as many times as you need.
How much Macafem should I take?
The recommended dose for adults is 3 tablets daily, preferably with meals. Most people feel much better within only one week of starting to take Macafem. If the results don't satisfy you after 2 weeks, try taking 2 tablets three times a day. There is no reason for health concerns, as Macafem is a non-toxic herb with no known side effects or interactions with other drugs.
Is Macafem safe to take for long periods of time?
Macafem does not contain hormones. It nourishes the hormonal system and helps the body to balance itself. There is no reason for health concerns with long-term use, as Macafem is an all-natural, non-toxic herb with no known side effects and no interactions with other drugs.
Can I take Macafem with other supplements or medications?
Macafem is a non-toxic herb with no known side effects and interactions with drugs. It is a very safe food, so Macafem does not interfere with medications or other supplements.