Macafem has proven to be very effective with menopausal patients in relieving menopause symptoms, as well as increasing energy levels.
Benefits of Macafem Supplements
Macafem is a non-estrogenic herb that does not have any side effects; it keeps your body healthy without dangerous risks. Some of Macafem's benefits are:
Relieving all the symptoms of menopause
Increasing energy levels
Reducing anxiety and stress
Promoting hormonal balance
Improving sexual functioning
Help preventing osteoporosis
Enhancing libido
Increasing fertility
Macafem Relieves All Menopause Symptoms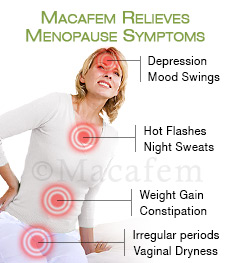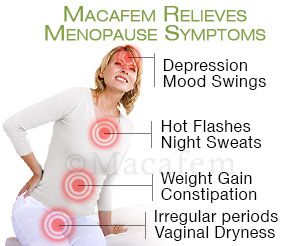 Macafem supplements alleviate hot flashes, vaginal dryness, night sweats, irregular periods, mood swings, depression, and many other menopause symptoms. Macafem balances hormone levels, addressing the underlying cause of menopause symptoms. It also prevents osteoporosis because it gives the body the support it needs to absorb calcium and other nutrients from the daily diet.
Macafem Increases Energy
While Macafem is not a stimulant like coffee or tea, it has the ability to naturally increase energy levels. It has been used by indigenous peoples in the Andean region for hundreds of years to promote vitality. This supplement contains vitamins B1, B2, C, and E, as well as the minerals calcium, magnesium, phosphorus, iron, and potassium. These essential nutrients, together with its beneficial alkaloids, balance hormone levels and energize the body.
Macafem Increases Fertility and Sexual Function
Macafem balances the levels of estrogen and progesterone before and during pregnancy. Estrogen controls the growth of the uterine lining during the first part of the menstrual cycle. On the other hand, progesterone is responsible for the changes in the endometrium in the second half of the menstrual cycle and prepares the lining of the uterus for the implantation of a fertilized egg. All of these processes are needed for conception to occur.
Macafem also enhances libido and sex drive. Macafem increases sexual well-being by balancing levels of testosterone and other essential hormones.
Macafem Prevents Osteoporosis
Macafem can help prevent osteoporosis because it helps the body to build and maintain strong and healthy bones. It contains potassium and calcium in a biologically available form for the hair, skin, nails, and bones. In addition, Macafem restores levels of estrogen, which plays a role in regulating bone density.
An Active and Healthy Life
If you want an active and healthy life, then Macafem can help. Macafem supplements will balance your hormone levels, relieve all of your menopause symptoms, and bring overall wellness to your life. Click here to order Macafem.